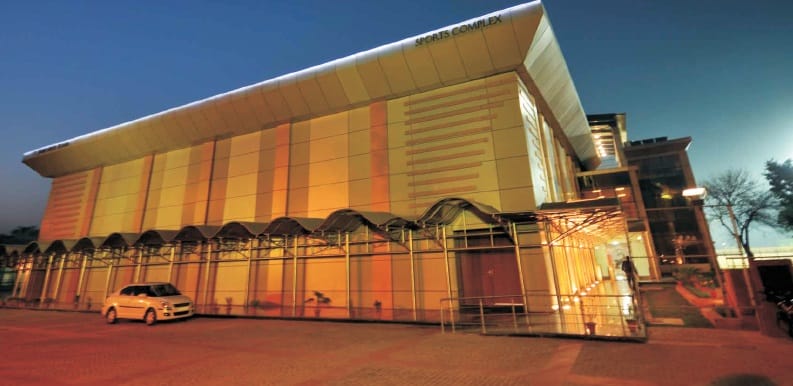 Jamia Millia Islamia Sports and Games have played an important role in the evolution of Jamia Millia Islamia as a Central University. Jamia has now completed 96 years of its academic life. Sports and Games definitely claim a fair share in the progress of the institution.
Earlier sports and games were considered a recreational activity in which the whole of Jamia community including the students participated. But with the appointment of trained Physical Education Director in 1971 the amateur approach towards sports and games changed to professional approach. Due to the commitment and dedication of the Jamia community members associated with the Sports management, in 1977, the University got recognition when Jamia won its first Gold and Silver Medal in Wrestling in the All India Inter University Championship.
The shape of Physical Infrastructure started changing with the development of an Indoor Sports Complex. The Cricket ground which was an uneven dust-bowl was given a facelift. It changed from a matting wicket to a turf wicket of international standard. Basketball and Lawn Tennis courts with flood light were constructed. Viewing galleries came up beside the Cricket ground with facilities of changing rooms.
The outreach of our infrastructure has grown regularly and is used not only by students but also by corporate houses, NGO's, Amateur and Professional Sports Associations and Clubs, DDCA and others. Ranji Trophy matches are a regular event every year at the Jamia Cricket ground. Jamia has also hosted Women's Cricket Test matches, Women World Cup matches and Blinds Cricket World Cup matches in the past.
The Jamia Sports Complex more commonly known as Bhopal Ground is situated adjacent to the Jamia main campus. The ground got its name as it was donated by the Late Begum of Bhopal, mother of late Mansoor Ali Khan Pataudi (former Indian Cricket Captain).
The ground within its periphery now consists of Centrally Air Conditioned Indoor Games Stadium along with Viewers Gallery meeting all the International standards.
The stadium incorporates the following facilities.
Badminton Court
Basketball Court
Table Tennis Court
Fitness Centre
Snooker Room
Waiting Lounge
Conference Room
Cafeteria
Changing Rooms (Men &Women)
Washrooms (Men &Women)
Washrooms (Handicapped sports persons)
Games & Sports Equipment Store
Viewers Gallery
The Sports Complex also has the facilities for Outdoor Games
Basketball Court
Cricket Ground
Cricket Net Practice Wickets
Football Ground
Lawn Tennis Court
Volleyball Court
Jogging Track
Athletics
Hockey ground (Situated at the Faculty of Education)
Outdoor Viewers Gallery
Sports facilities, such as Shooting, Swimming, Wrestling, and Boxing which are not available in Jamia are provided to qualified sports persons at sports stadiums outside Jamia.